PVA Soluble Support 3D Printer Filament
---
---
Description
PVA Filament 1.75mm & 2.85mm (3mm)
Are you looking at a complicated print job that involves supporting overhanging parts or intricate designs?
Maybe you want to try a material that's similar to PLA and just as easy to work with, but will also provide the aforementioned support?
If that's the case, then rigid.ink PVA is the material for you.
PVA, or polyvinyl alcohol, is a synthetic polymer that is strong, non-toxic, biodegradable and, for support purposes, water soluble. That fact that PVA will dissolve in water has led to its being used commercially in a number of products from laundry packs to eye drops. When it comes to 3D printing, the water solubility of PVA makes it an excellent tool to use to provide support to objects that include overhangs or detailing.
As you already know, 3D printing proceeds from the bottom up. If you're printing an object that incorporates overhangs, areas of your design that doesn't have any underlying material, you're going to have trouble. Printer filament has to extrude onto some type of surface, either a build plate or a previously extruded layer of material.
rigid.ink PVA gets rid of the problem by providing a support surface for these overhangs. First, your printer extrudes a layer of rigid.ink PVA underneath the area where the overhang will be. Once the PVA is in place, your printer will have a surface that it can use to lay down the overhanging portions of your object. rigid.ink PVA prevents the distortion or collapse that would happen without the necessary support.
Once you print job is done, removing rigid.ink PVA filament is extremely simple. There are no chemicals involved and you won't need knives or other tools to remove the support material you no longer need. All you need to do is submerge your object in a container of room temperature water for several hours. The water will completely dissolve the rigid.ink PVA. You're left with an object that has sharp clean lines and a remarkable level of detail.
When using a support material, it's very important to be aware of the print temperature of your printing material and your support material. If there is a significant variance between the two temperatures, you may find that one material will warp and deform the other material during the printing process. That's why PVA works so well as a support material when PLA is being used as the print material. You see, PVA and PLA have very similar printing temperatures. This results in the two materials laying cleanly together without any warping or deforming.
When you're printing with rigid.ink PVA keep your fan speed lower, high fan speeds can blow newly extruded PVA off alignment before to gets a chance to set. Keep your printing temperatures between 190°C and 210°C, depending on your particular extruder. Use a print bed temperature between 50°C to 60°C and keep your print speed a tad lower than normal, around 30mm/sec.
It's also important to remember that rigid.ink PVA is not only water soluble, it is also highly hygroscopic. This means that it will absorb moisture directly from the air. The more humid the air, the more water the material will absorb. This means that you should store your rigid.ink PVA in an airtight cool, dry place in order to maintain its strength and integrity.
Why buy rigid.ink?
Unbeatable high quality materials
Reliable prints and service
Less wasted time and money
Unmatched customer service - we won't let you lose out!
A genuine 60 day money back guarantee
An ever-increasing range of materials and colours
Advice, tips and a general interest in what you're up to :-)
Let's not pull any punches, shall we?
3D printing isn't always the glorious endeavour that it's made out to be. Warping, clogs and ruined objects all conspire to make you wonder why you're doing any of this in the first place. If you're feeling like this, don't give up hope. Nearly all of the problems that occur in 3d printing can be traced back to the use of cheap printing filament. Once you get rid of the flea market filament, you also get rid of the repeated problems that make you want to chuck your printer in the bin.
At rigid.ink, our mission is to get the very best quality printing filament into the hands of our customers. What happens when that occurs? Well, those annoying problems begin to disappear and are replaced with smooth print jobs that tend to produce jaw dropping results. Hey, don't take our word at face value. Instead, check out what our customers have to say about our products, both here and on the internet. Once you do, you'll realize that the people who have used our materials swear by them and agree that rigid.ink printing filament is the best they've ever used.
Our aim at rigid.ink is to produce the highest quality filaments available on the market today. Our materials never contain the junk and filler that makes you 3d printing life miserable. This isn't just lip service. We base our entire business and our reputation on the quality of our filament. This means that we aren't satisfied until you're completely satisfied with your purchase. We will do what it takes to achieve that satisfaction. What happens if we can't? Our cast iron 60 day money back guarantee says that if you are not satisfied for ANY reason, we will refund your purchase price, no questions asked.
It's our belief that rigid.ink PVA is the best 3d printing filament available. Our price reflects that belief. Rigid.ink PVA isn't for weekend warriors. It is a serious printing material for professionals who are looking for serious results. Therefore, we understand if our filament isn't for you. Really, it's ok.
However, if you are interested in trying the best filament currently available, without compromises or excuses, then rigid.ink PVA is for you. Order a sample, 0.5KG or 1KG today and see for yourself what the best quality filament can mean to your final product.
Still unsure?
Get in touch:
Email - customerdelight@rigid.ink
Phone - 01937 589 052
Live Chat - www.rigid.ink (bottom right of the screen)
Click to learn more about PVA in our resource centre: PVA Filament - The easy dissolvable support filament
Click here to compare rigid.ink filaments
We do not hold Food Safety Certificates. Some of the raw materials used to produce our filaments are food safe accordingly to European regulations, but our filament in it's final form is not officially approved. Neither is the 3D printing process and all the components of 3D printers.
Still not sure if Rigid.ink is for you? Contact us or check out our FAQs page.
Settings
Guide Settings
Printing Temperature:
190°C
Bed Temperature:
Off-45°C
Print Speed:
30mm/s or below
Cooling Fans:
As required for primary filament
Ideal build chambers:
Open, all covers and doors removed
Good ventilation is essential and do not leave print unattended.
Information
Density:
0.6-0.9g/cc
Glass Transition Temp:
62°C
Sample Weight:
Approx 35g
Empty Spool + Filament Weight:
Approx 250g + 1KG = Approx 1.25KG
300G Spool Size:
16cm dia, 4.2cm width, 5.2cm dia spool hole
1KG Spool size:
20cm dia, 7cm width, 5.6cm dia spool hole
Please note: settings vary printer to printer so experimenting is essential
PVA Filament – The Easy Soluble Support Material
Help Center - Support Comparison Summary
Compare All Filaments
For specific 3D printing help, please complete our
3D Printing Help Form.
We do not hold Food Safety Certificates. Some of the raw materials used to produce our filaments are food safe accordingly to European regulations, but our filament in it's final form is not officially approved. Neither is the 3D printing process and all the components of 3D printers.
Download Datasheet
Reviews
Good filament
Bought some of this from the amazon webshop and after a bit of tweeking found it super for supports. I did find that it absorbs moisture super fast so I would recommend a dry feed box....
Now I need more!
Great soluble support
We made the switch to this soluble support recently and are thrilled with the results. It prints very easily and due to the natural color it is a great product to use when we print our orthotics. Other PVA support filaments leave behind residue in the layers occasionally. this support left no reside and a very clean finish. We will be ordering again.
Hi Shannon,

Thanks for taking the time to leave this positive review!

I'm glad to hear that you like the PVA and would love to see some photos of your work :)

All the best
Monica
5/5
PVA Soluble Support 3D Printer Filament
Works well
This is the first PVA I've tried, and have been happy with the results so far. I've used it with two different non-Rigid.Ink PLAs, and both have bonded well. It has also stuck well to my PEI bed (maybe a little too well, as it required some extra elbow grease to remove bits of it).
I'm running an E3DLite V6 at 212C, no part fan, with bed at 60C for the first layer. 2nd layer till finish drops to 206C, bed to 55C, with 65-75% fan. Printer is a SeeMeCNC Rostock Max V2 with several upgrades & mods.
Minimal PVA can be used with good part design (for most geometries), which is good because PVA is very expensive compared to PLA. On the other hand, I'm rather reluctant to purchase a large roll (to lower the cost/kg) due to concerns of keeping it dry over the several months it would take to use it up.
I use a food dehydrator to dry my filaments, and store each roll in its own relatively air-tight food storage container afterwards. Each container has a few desiccant packs, a cheap humidity gauge, and PTFE tubing to feed the filament out to the printer. The roll rides on a small , kitchen-type turntable.
Can't get it to print.
I would love to give this a better review, but it just doesn't want to print, I've tried setting the temperature higher and lower on both the extruder and the print bed, but it ends up folding over itself in the extruder nozzle or not sticking to the print bed. If you can advise me on how to get this material to work with my printer that would be much appreciated.
I can't fault the delivery however, it was on my doorstep by the following day!
Hi Robyn, thanks for taking the time to leave a review. I'm sorry to hear you've been having some issues with your PVA filament. We'd hate for you to miss out so we'd like to help you sort this out - if you could email some more info over (printer type, print settings etc.) to
customerdelight@rigid.ink
, we'll do what we can to get you up and running. Many thanks - Tom, rigid.ink
Photos
Rewards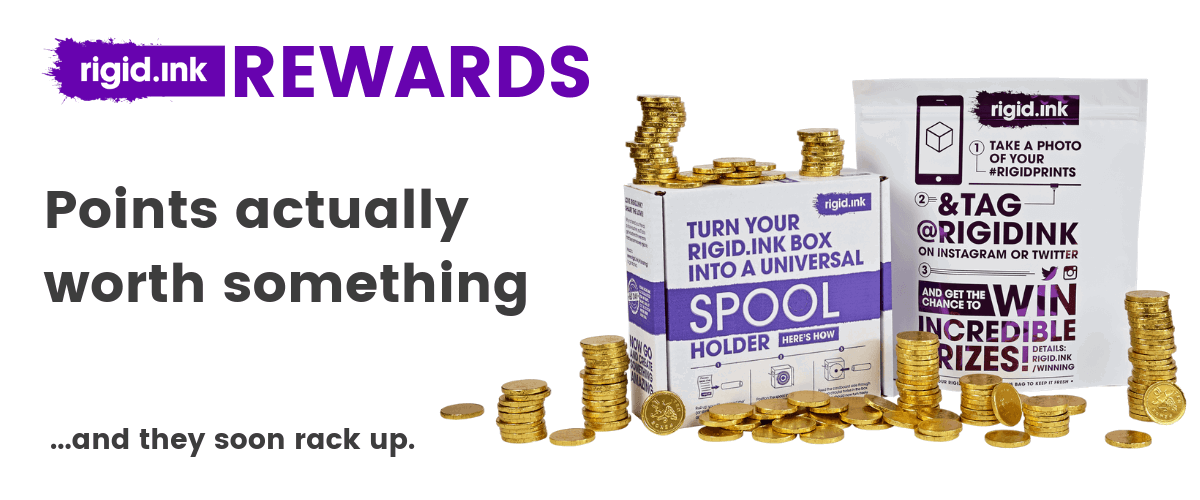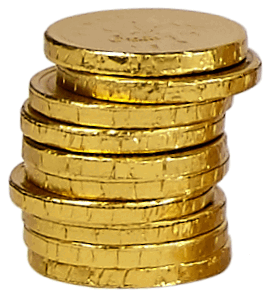 Don't leave money on the table...
Start collecting points worth at least 2.5%* cashback today. You might even have points from past orders you can still claim.

Look at all the ways you can pick up points and get your rewards below.

* - Our VIP customers get a rewarding 5% cashback.
How do I get points?
You can stack up rigid.ink Reward points by doing any of the following stuff - most of which you'd likely do anyway. And with our surprise bonuses, your points will soon add up! Make sure you complete the actions through the 'Earn Rewards' tab inside your rigid.ink account though.

You'll need an account though. Don't have one? Get 250 bonus points if you sign up today!
Get My Account & 250 Points

You get 5 points for every £1 spent. VIPs get 10 points for every £1 spent.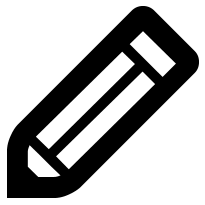 Let others know what you think to rigid.ink They'll get £5 off their first order. And you'll get £5 worth of points.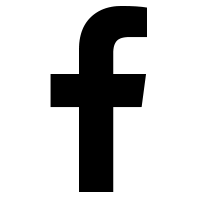 Love rigid.ink & want to get the word out? We'll reward you for your time...
What can I use my points for?
Once you've earned points, you can redeem them for voucher codes so you can get:

Get voucher codes you can spend on rigid.ink filament. Your points are worth solid money off your orders.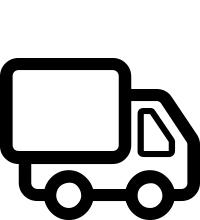 Fancy FREE UK or even EU shipping off your orders? Make big savings on shipping costs.
*How do I become VIP?
Join the VIP club...
Once you've earned a total of 1500 points (not balance - you can still spend them all) in a 12 month period, you'll be automatically upgraded to our extra special VIP club tier. Here, you'll enjoy perks - most notable you'll receive an additional 2.5% on your points.

This means you'll receive a total of 5% cashback on your rigid.ink purchases, as an extra thank you to our most loyal customers.
How do I redeem my points?
To view your balance, redeem points and see what you're eligable for, just login to your account and click on 'Loyalty Points'. Select the 'Rewards' tab to choose and claim your rewards to get money off or FREE shipping on your next order!
Get My Account & 250 Points