PETG 2.85mm 3D Printer Filament
---
---
Description
PETG Filament 2.85mm (3mm)
Please note: Previously available colours were discontinued 24.08.18. If you wish to order any of the previously available colours please contact customerdelight@rigid.ink to discuss options. 
What is PETG?
PETG plastic is a very durable material. It's essentially PET (think plastic bottles etc.) that's glycol modified for enhanced durability and flex. Your PETG prints will be stiff, but very hard to break – you'll likely be able to bend it, but we'd be very surprised if you could break it in your hands.
It's the ideal material to print where you need something with a bit of flex, but won't break. These properties make it more durable than PLA or ABS.
Printing with PETG is a dream, because the plastic naturally has low shrinkage and so is unlikely to warp. An excellent advantage with PETG is you can expect very smooth finishes – it's not likely to string or blob (unless of course you print too hot!). It also prints odourless.
The main tip for printing with PETG is too give it more room on the Z-axis than you normally would. PETG can sometimes scrape on the previous layer so adding an extra 0.02mm to the Z-axis should resolve this. Increase further by 0.02mm as needed.
We stock our PETG filament in a selection of translucent colours, due to its clarity in its natural form. We thoroughly test our colours to ensure there are no changes of inconsistencies when printing.
Why buy rigid.ink?
Unbeatable high quality materials
Reliable prints and service
Less wasted time and money
Unmatched customer service - we won't let you lose out!
A genuine 60 day money back guarantee
An ever-increasing range of materials and colours
Advice, tips and a general interest in what you're up to :-)
Let's be honest, shall we?
3D printing can be quite the pain in the arse. Repeated clogging, deformed and malformed prints and endless warping can make the calmest of us want to tear their hair out.
The thing is, all of this stress and angst is unnecessary.
The problems inherent in 3D printing tend to stem from the use of low quality, cheap printing filament. Lost the bargain basement filament and you also lose many of the problems that drive you crazy.
Here at rigid.ink, our aim with all our materials, including rigid.ink PETG filament, is to make sure that you can get your hands on the highest quality 3D printing filament available.
What's the result of using filament that's manufactured to our very exacting standards?
You start to see an upswing in your printer performance. This then translates into the ability to produce objects with a finished quality that was not previously possible. But don't just take our word for it. Instead, take a look at what our customers are saying about our filaments, both here and on the web. When you do, you'll see that people who've used our materials all agree that its the best 3D printing filament that they've ever seen.
Our mission at rigid.ink is to bring you top of the line filament that never contains the impurities and filler that causes your prints to fail and makes you wish that you never heard of 3D printing in the first place. These aren't just words to us. Our entire business reputation is based on the quality of our filament. We never rest until you are completely satisfied with the material you have purchased. We are committed to working with you until that satisfaction is achieved.
Where's the walk behind all the talk?
Our set in stone 60 day money back guarantee says that if you are not satisfied for ANY reason, you can return for a full refund your purchase price.
We believe that rigid.ink PETG is the highest quality 3d printing filament on the market. That fact is reflected in its price. rigid.ink PETG is not for the sometime hobbyist. It is serious a serious material designed to print serious objects. As a result, we understand that our filament isn't for everyone.
However, if you are interested in trying the best filament currently available, without compromises or excuses, then rigid.ink PETG is for you. Order a 10m sample or 1KG today and see for yourself what the best quality filament can mean to your final product.
Still unsure?
Get in touch:
Email - customerdelight@rigid.ink
Phone - 01937 589 052
Live Chat - www.rigid.ink (bottom right of the screen)
Click to learn more about PETG in our resource centre: PETG Filament - Here's everything you need to know
Click here to compare rigid.ink filaments
We do not hold Food Safety Certificates. Some of the raw materials used to produce our filaments are food safe accordingly to European regulations, but our filament in it's final form is not officially approved. Neither is the 3D printing process and all the components of 3D printers.
Still not sure if Rigid.ink is for you? Contact us or check out our FAQs page.
Settings
Guide Settings
Printing Temperature:
225°C
Bed Temperature:
70-80°C
Bed Adhesion:
Blue decorators tape, Glue-stick
Print Speed:
30-40 mm/s (higher speeds may need slightly hotter printing temp, up to 255°C)
Cooling Fans:
Usually off, unless needed for finely-detailed parts
Z-Axis:
Increase Z-axis gap, almost air printing. Increase by 0.02mm each time to prevent stringing/blobbing.
Good ventilation is essential and do not leave print unattended.
Information
Density:
1.27g/cc
Glass Transition Temp:
80°C
Tensile strength:
7,300 psi (50MPa)
Sample Weight:
Approx 35g
Empty Spool + Filament Weight:
Approx 250g + 1KG = Approx 1.25KG
1KG Spool size:
20cm dia, 7cm width, 5.6cm dia spool hole
Post-Print Processing
Polishing/Smoothing:
Dichloromethane smoothing
Please note: settings vary printer to printer so experimenting is essential
PETG Filament – Overview, Step-by-step Settings & Problems Resolved
How to Print Clear Filament, More Clearly
'Specialist' Filaments; Why you'd use them and best printing tips
Help Center – ABS vs PETG Summary
Help Center – PETG vs PMMA Summary
Compare All Filaments
For specific 3D printing help, please complete our
3D Printing Help Form.
We do not hold Food Safety Certificates. Some of the raw materials used to produce our filaments are food safe accordingly to European regulations, but our filament in it's final form is not officially approved. Neither is the 3D printing process and all the components of 3D printers.
Download Datasheet
Reviews
Great alternative to PLA and ABS.
Prints great once dialed in, have ordered another colour off the back of this one as with all rigid stuff you can just use the same settings with no hassle. Not the cheapest but all things considered worth paying the extra.
Excellent alternative to ABS
I wanted something stronger than PLA but easier to print than ABS and PETG seemed the ideal material. The quality of the filament is as excellent as always from Rigid.Ink and it produced excellent results. I took to printing on blue tape as the bed adhesion was rather strong, even allowing an extra 0.2mm z gap for the first layer.
Hi Robert,

Thanks for taking the time to write a review.

I'm glad you like our PETG, feel free to send us some photos of your prints!

All the best
Monica
Translucent Orange
Arrived in good time and quality was spot on.
I am very happy with the results.
Hi Rebekah,

Thanks for taking the time to write a review.

I'm glad it's all working for you well!

All the best
Monica

5 star
PETG 2.85mm 3D Printer Filament
3mm natural PETG
Printed nicely even without a heated bed and without tuning settings. After tuning settings the prints were next to perfect. Suggested print settings on website and packaging really useful.
Photos
Rewards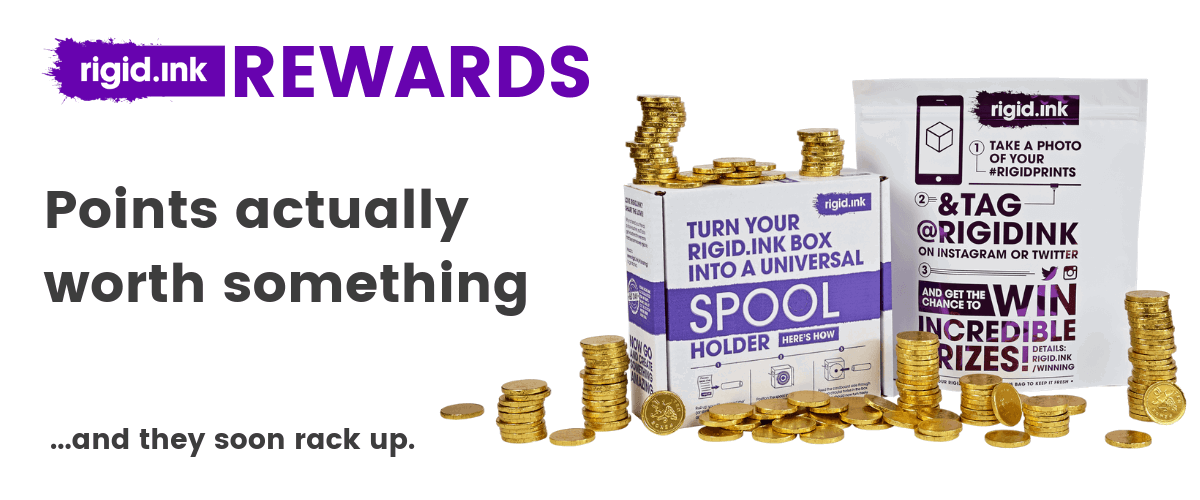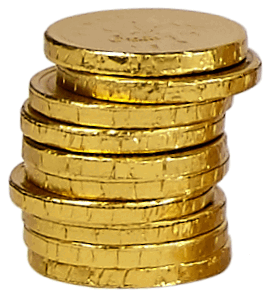 Don't leave money on the table...
Start collecting points worth at least 2.5%* cashback today. You might even have points from past orders you can still claim.

Look at all the ways you can pick up points and get your rewards below.

* - Our VIP customers get a rewarding 5% cashback.
How do I get points?
You can stack up rigid.ink Reward points by doing any of the following stuff - most of which you'd likely do anyway. And with our surprise bonuses, your points will soon add up! Make sure you complete the actions through the 'Earn Rewards' tab inside your rigid.ink account though.

You'll need an account though. Don't have one? Get 250 bonus points if you sign up today!
Get My Account & 250 Points

You get 5 points for every £1 spent. VIPs get 10 points for every £1 spent.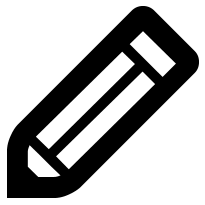 Let others know what you think to rigid.ink They'll get £5 off their first order. And you'll get £5 worth of points.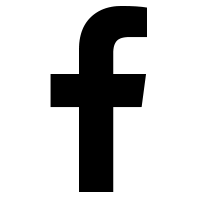 Love rigid.ink & want to get the word out? We'll reward you for your time...
What can I use my points for?
Once you've earned points, you can redeem them for voucher codes so you can get:

Get voucher codes you can spend on rigid.ink filament. Your points are worth solid money off your orders.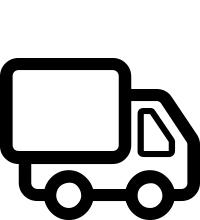 Fancy FREE UK or even EU shipping off your orders? Make big savings on shipping costs.
*How do I become VIP?
Join the VIP club...
Once you've earned a total of 1500 points (not balance - you can still spend them all) in a 12 month period, you'll be automatically upgraded to our extra special VIP club tier. Here, you'll enjoy perks - most notable you'll receive an additional 2.5% on your points.

This means you'll receive a total of 5% cashback on your rigid.ink purchases, as an extra thank you to our most loyal customers.
How do I redeem my points?
To view your balance, redeem points and see what you're eligable for, just login to your account and click on 'Loyalty Points'. Select the 'Rewards' tab to choose and claim your rewards to get money off or FREE shipping on your next order!
Get My Account & 250 Points