Flexible PLA 2.85mm 3D Printer Filament
---
---
Description
Flexible PLA 2.85 Filament
Please note: Previously available colours were discontinued 24.08.18. If you wish to order any of the previously available colours please contact customerdelight@rigid.ink to discuss options.
Please note the following colour name changes (18.07.18):
Fire Red = Flash Red
Light Blue = Bright Blue
Light Green = Lime Green


The names have changed but the colours have not, so you can continue to order the same vibrant colours you have previously.
Our PLA is flexible, yet easy to print with unlike many flexible materials. Like all rigid.ink filaments, we've tested our Flexible PLA extensively to ensure layer-to layer bond is exceptional, and layer separation isn't something you need to worry about. 
With it's low resistance (unlike typical flexi filaments) your prints won't jam when printing. 
We became so tired of the hordes of terrible quality flexi PLA 3D printer filaments flooding the market, we decided to release our own. You need a Flexible PLA filament you can rely on, something that won't ever jam your head and produce flawless prints, every time.
Accurately represented colours, near-perfect tolerances and excellent raw material quality was our aim. It wasn't easy, but we're confident we've produced a 3D printer filament to be proud of. In fact, we'd be surprised if you found better.
Especially for this price.
Using the most technologically advanced equipment and the finest raw materials, we produce a consistent filament with a tolerance of just 0.05mm either side of the 1.75mm and 2.85mm diameter we promise (+/- 0.03mm for non-flexible filaments). We know it's good, we test it thoroughly with lasers. Sick of trying cheap, nasty filaments? Ours is pure with no nasty additives.
Don't feel like committing to a whole KG roll?
No worries, we even sell lengths in multiples of just 5 meters, allowing you to try out a range of our filaments and colours at a fraction of the price. It'll keep you printing on a budget. The colours you see in the images are the exact colour you'll receive. We may not have the biggest selection of colours (more coming soon!) but they won't disappoint. 
Sure the quality is amazing, but what about the service?
It's fashionable to say you give great service, but ours really is second to non. Seriously, not happy with your purchase in any way? Let us know, we'll bend over backwards to help you out. So why wait, order from just 5 meters or 1KG of rigid.ink today.
Works with pretty much all filament based 3D printers, our spool size is - 20cm dia, 7cm width, 5.6cm dia spool hole. Recommend print temperature at around 240C - 250C with heated bed of 30-60C. As with all flexi filaments, you want to print at half normal speed on a fast printer (or approx 15-25mm/sec).
Shore hardness of 55. 
We do not hold Food Safety Certificates. Some of the raw materials used to produce our filaments are food safe accordingly to European regulations, but our filament in it's final form is not officially approved. Neither is the 3D printing process and all the components of 3D printers.
Still not sure if Rigid.ink is for you? Contact us or check out our FAQs page.
Settings
Guide Settings
Printing Temperature:
245°C
Bed Temperature:
30-60°C
Bed Adhesion:
Glue-stick, 3DLAC, Vinyl hairspray. Increase the air-gap between nozzle for the first layer and the bed. Be especially careful with FR4, PEI and BuildTak.
Print Speed:
15mm/s (higher speeds may need slightly hotter printing temp, up to 250°C, slower speeds may need slightly lower printing temp, around 235-240°C)
Cooling Fans:
100% after layer 1
Retraction:
Increase more for flexible materials
Good ventilation is essential and do not leave print unattended.
Information
Density:
1.25-1.27g/cc
Tensile Strength:
35/44MPa
Sample Weight:
Approx 35g
Empty Spool + Filament Weight:
Approx 250g + 1KG = Approx 1.25KG
1KG Spool size:
20cm dia, 7cm width, 5.6cm dia spool hole
3KG Spool size:
29.8cm dia, 10.3cm width, 5.3cm dia spool hole
Please note: settings vary printer to printer so experimenting is essential
The 6 Best Flexible 3D Printer Filament Companies - Complete Review
Help Center - Flexible PLA vs TPU Summary
Compare All Filaments
For specific 3D printing help, please complete our
3D Printing Help Form.
We do not hold Food Safety Certificates. Some of the raw materials used to produce our filaments are food safe accordingly to European regulations, but our filament in it's final form is not officially approved. Neither is the 3D printing process and all the components of 3D printers.
Download Datasheet
Reviews
Flexible PLA 2.85mm
i have tried a few flexible filaments and this one is very easy to use. Excellent inter layer adhesion, no problems with filament feed (on ultimakers). Just keep the speed really low when printing
Good results after only the second attempt
I was intrigued to know how flexible this stuff is so after a quick word with Rigid Ink on chat I decided to give it a shot. I'm not disappointed as it's printed the job I had in mind after only the second attempt. The first attempt was a bit scruffy because I set the print speed too high but having got that right it prints very well. I'm still amazed as to how flexible it is - much more than I expected - which is good.
Bio Flex
Great quality product, second only to the next level customer service and assistance with printing. Would highly recommend.
Flexible Pla
After some teething problems, I am now able to produce some really complex shapes with this filament. Will upload an image of my latest print.. This shows a lattice work that was printed at 260 C with a print speed reduced to 50%.
Flexi PLA
I ordered the Flexi PLA completely by mistake not reading the title of what I was clicking, So I was annoyed by my shortsightedness when it arrived.
Once the initial confusion subsided I decided to throw it into the printer and see what I could print with it. It took a little while getting the settings right for the heated bed and print speeds but once I got those dialed in it was working great! Currently I'm printing on a 70C bed with a solid infill at 20mm/s and outer surfaces at 15mm/s with cooling.
I've currently printed some clips for holding a 4kg steel tool which work perfectly with the flex that they have and a number of smaller items.
Overall I'm really happy with the mistake that I made and look forward to getting a little more inventive with what I can create!
Photos
Rewards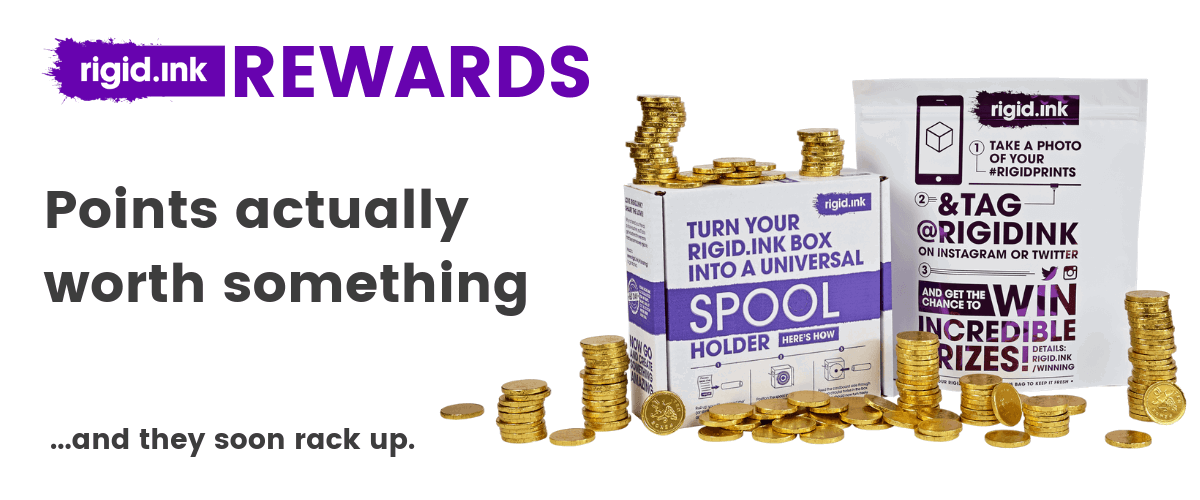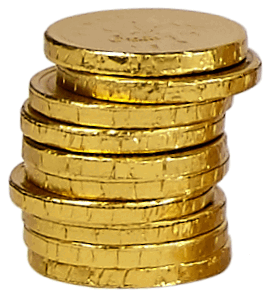 Don't leave money on the table...
Start collecting points worth at least 2.5%* cashback today. You might even have points from past orders you can still claim.

Look at all the ways you can pick up points and get your rewards below.

* - Our VIP customers get a rewarding 5% cashback.
How do I get points?
You can stack up rigid.ink Reward points by doing any of the following stuff - most of which you'd likely do anyway. And with our surprise bonuses, your points will soon add up! Make sure you complete the actions through the 'Earn Rewards' tab inside your rigid.ink account though.

You'll need an account though. Don't have one? Get 250 bonus points if you sign up today!
Get My Account & 250 Points

You get 5 points for every £1 spent. VIPs get 10 points for every £1 spent.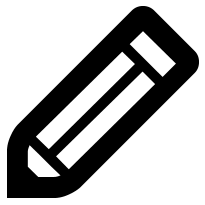 Let others know what you think to rigid.ink They'll get £5 off their first order. And you'll get £5 worth of points.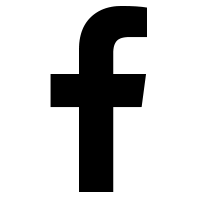 Love rigid.ink & want to get the word out? We'll reward you for your time...
What can I use my points for?
Once you've earned points, you can redeem them for voucher codes so you can get:

Get voucher codes you can spend on rigid.ink filament. Your points are worth solid money off your orders.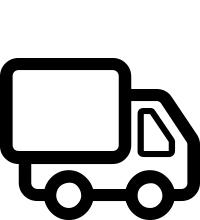 Fancy FREE UK or even EU shipping off your orders? Make big savings on shipping costs.
*How do I become VIP?
Join the VIP club...
Once you've earned a total of 1500 points (not balance - you can still spend them all) in a 12 month period, you'll be automatically upgraded to our extra special VIP club tier. Here, you'll enjoy perks - most notable you'll receive an additional 2.5% on your points.

This means you'll receive a total of 5% cashback on your rigid.ink purchases, as an extra thank you to our most loyal customers.
How do I redeem my points?
To view your balance, redeem points and see what you're eligable for, just login to your account and click on 'Loyalty Points'. Select the 'Rewards' tab to choose and claim your rewards to get money off or FREE shipping on your next order!
Get My Account & 250 Points