PLA 1.75mm Fun Packs 5 x 10m Samples
---
---
Description
What are Fun Packs?
Our Fun Packs are perfect for 3D pen refills or to test colours before committing to KGs.
We have a few selections from our wide colour range that we thought you (or your kids!) would love. Each pack contains 5 x 10m samples in PLA 1.75mm.

Colours?
• Bright Pack – Orange, Flash Red, Bright Blue, Lime Green, Light Yellow
• Aqua Pack – Pearl Blue, Bright Blue, Translucent Blue, Purple, Lime Green
• Fuchsia Pack – Purple, Magenta, Bright Blue, Pink, Pearl
• Translucent Pack – Natural Clear, Pearl, Translucent Green, Translucent Red, Translucent Blue
You may receive two of the same colour as some colours are now out of stock.

How to use?
• Printing temperature 180-205°C
• For printers, a heated bed isn't necessary but if you prefer we suggest no higher than 40°C
• rigid.ink fun packs work for all 3D pens that use PLA 1.75mm filament


We do not hold Food Safety Certificates. Some of the raw materials used to produce our filaments are food safe accordingly to European regulations, but our filament in it's final form is not officially approved. Neither is the 3D printing process and all the components of 3D printers.
Still not sure if Rigid.ink is for you? Contact us or check out our FAQs page.
Settings
Settings Guide
Printing Temperature:
Start at 180°C
Bed Temperature:
Off-45°C
Bed Adhesion:
Blue decorators tape or Kapton Tape. Use glue stick for extra adhesion if needed.
Print Speed:
30-40 mm/s (higher speeds may need slightly hotter printing temp, up to 205°C)
Cooling Fans:
100% from layer two onward
Ideal build chamber:
None, remove all covers and doors.
Good ventilation is essential and do not leave print unattended.
Information
Density:
1.24g/cc
Glass Transition Temp:
55-60°C
Tensile strength:
8,383 psi (57.8MPa)
Sample Weight:
Approx 35g
Empty Spool + Filament Weight:
Approx 250g + 1KG = Approx 1.25KG
1KG Spool size:
20cm dia, 7cm width, 5.6cm dia spool hole
3KG Spool size:
29.8cm dia, 10.3cm width, 5.3cm dia spool hole
Click here to find out how many meters of filament is on your spool
Post-Print Processing
Annealing:
70°C for around 30mins
Glues/ adhesives:
Cyanoacrylate (Super-Glue), Acetone, Epoxy Resins
Polishing/Smoothing:
Cannot be acetone smoothed, needs sanding and polishing -
Click here to read how to article
Painting:
Acrylic, cellulose or oil paints
Please note: settings vary printer to printer so experimenting is essential
PLA 3D Printing Filament – Everything you need to know
How to Smooth PLA to a Mirror Finish
Help Center – PLA vs ABS Summary
Help Center – PLA vs PLA Plus+ Summary
Compare All Filaments
For specific 3D printing help, please complete our
3D Printing Help Form.
We do not hold Food Safety Certificates. Some of the raw materials used to produce our filaments are food safe accordingly to European regulations, but our filament in it's final form is not officially approved. Neither is the 3D printing process and all the components of 3D printers..
Download Datasheet
Reviews
Fantastic filament!!!
I've now tried various Rigidink PLA filaments (fun packs, testers and spools) all build really well and the colours come out great! Really vibrant and bright. Once you tweak your printer settings and get one building good, you can simply use whichever filament colour you like with no problems or changes. Print well fast and at 0.2mm layers, going to build more detailed parts using smaller nozzle dia/layer thickness - I know they'll turn out great already! Best filament I've used!!! Top quality, highly recommend!!!!
5/5
PLA 1.75mm Fun Packs - 5 x 10m Samples
its okay
Once I found a temperature where it would stick to the bed, it printed well enough but it didn't seem any better than the Makergear filament I use.
Excellent PLA.
It would be cool if you could provide advice on how to handle small 10m samples
Clearly better quality
After a disappointing experience with another suppliers set of samples where the translucent sample caused a number off issues including hot end clogging and delamination during printing it felt like a gamble testing the sample translucent pack from Rigid Ink. I am glad to say the Rigid Ink samples stand 'clearly' head and shoulders above those I previously tried.
Photos
Rewards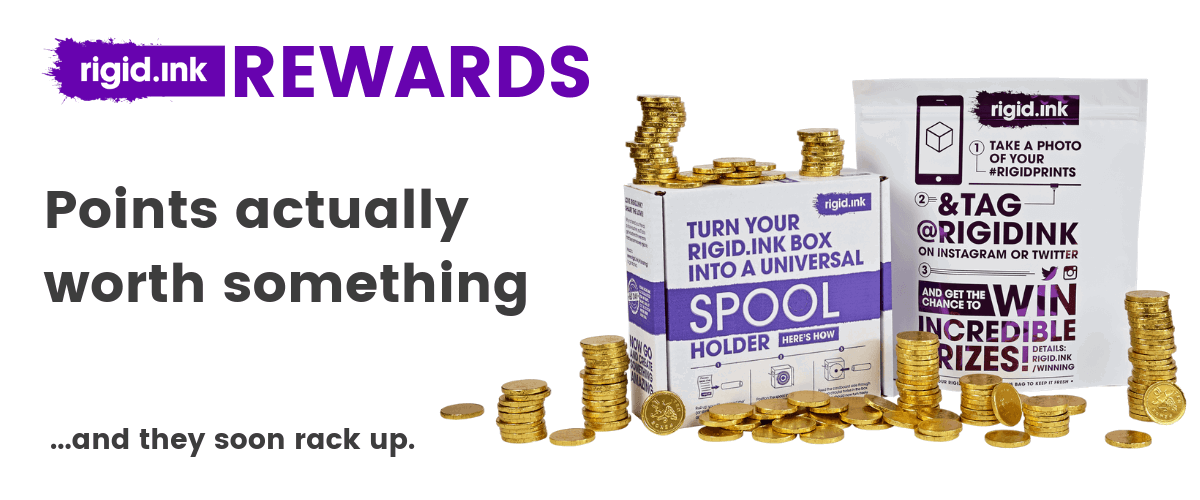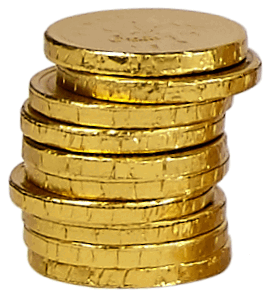 Don't leave money on the table...
Start collecting points worth at least 2.5%* cashback today. You might even have points from past orders you can still claim.

Look at all the ways you can pick up points and get your rewards below.

* - Our VIP customers get a rewarding 5% cashback.
How do I get points?
You can stack up rigid.ink Reward points by doing any of the following stuff - most of which you'd likely do anyway. And with our surprise bonuses, your points will soon add up! Make sure you complete the actions through the 'Earn Rewards' tab inside your rigid.ink account though.

You'll need an account though. Don't have one? Get 250 bonus points if you sign up today!
Get My Account & 250 Points

You get 5 points for every £1 spent. VIPs get 10 points for every £1 spent.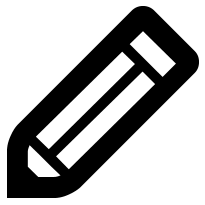 Let others know what you think to rigid.ink They'll get £5 off their first order. And you'll get £5 worth of points.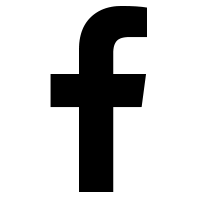 Love rigid.ink & want to get the word out? We'll reward you for your time...
What can I use my points for?
Once you've earned points, you can redeem them for voucher codes so you can get:

Get voucher codes you can spend on rigid.ink filament. Your points are worth solid money off your orders.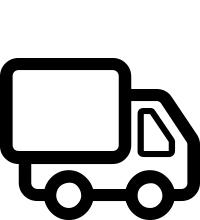 Fancy FREE UK or even EU shipping off your orders? Make big savings on shipping costs.
*How do I become VIP?
Join the VIP club...
Once you've earned a total of 1500 points (not balance - you can still spend them all) in a 12 month period, you'll be automatically upgraded to our extra special VIP club tier. Here, you'll enjoy perks - most notable you'll receive an additional 2.5% on your points.

This means you'll receive a total of 5% cashback on your rigid.ink purchases, as an extra thank you to our most loyal customers.
How do I redeem my points?
To view your balance, redeem points and see what you're eligable for, just login to your account and click on 'Loyalty Points'. Select the 'Rewards' tab to choose and claim your rewards to get money off or FREE shipping on your next order!
Get My Account & 250 Points