Carbonyte [Nylon 12 & Carbon Fibre 1.75mm 3D Printer Filament PA-CF]
---
---
Description
What is Carbonyte?
Carbonyte is a Carbon Nylon blended filament.
Carbon fibre is a seriously strong and low density material, it's only done justice in a composite with a copolymer that has qualities to perfectly compliment carbon. While carbon is stiff and light, Nylon 12's properties are that it's the most durable (and in our eyes, generally superior) 3d printing material available.
Combined with it's low friction coefficient, low density and high resistance to heat and chemicals – Nylon 12 was the perfect accompaniment to create this performance filament.
The addition of the carbon fibre material has also granted this material improved UV resistance over standard nylon materials.
The result?
An uncompromised blend of Carbon Nylon (or PA-CF for short) that knows no competition. This blend offers the outright highest strength of any FDM printing filament we're currently aware of (please let us know if you find stronger). While boasting incredible stiffness combined with a reassuring level of subtle durability and excellent layer adhesion – your parts won't fracture or snap under excessive loads.
All while keeping the density lower than weaker filaments.  
Currently there are a few varieties of Carbon Fibre reinforced filaments available. Most are blended with more traditional materials (like PLA or ABS) that you're familiar with. We've taken a different approach.
You see, it's not just a case of adding carbon to an existing material to instantly improve it. You've got to ensure the properties of the host plastic actually compliment that of carbon. Otherwise you end up with something very brittle, crumbly or otherwise no discernible improved qualities over the original non-carbon filament.
Our mission with this material was to create the highest performance 3D printer filament currently available. This means the best of all the traits you need in a high performance filament, while still getting excellent printing reliability and finish quality.
This material is not intended for printing desktop trinkets and at this price – we think you're aware of that. Unfortunately getting all the variables right of these high-end materials to print perfectly is painstaking work – the price has to reflect this. We understand our Nylon Carbon Fibre Filament isn't for everyone.
If you need the best filament currently available, with no compromise – then look no further and order a KG or a sample today.
We do not hold Food Safety Certificates. Some of the raw materials used to produce our filaments are food safe according to European regulations, but our filament in it's final form is not officially approved. Neither is the 3D printing process and all the components of 3D printers.
Still not sure if Rigid.ink is for you? Contact us or check out our FAQs page.
Settings
Guide Settings
Printing Temperature:
255°C
Bed Temperature:
100-110°C
Print Speed:
30-40 mm/s (higher speeds may need slightly hotter printing temp, up to 270°C)
Cooling Fans:
Off at all times
Ideal build chamber:
Closed
Minimum Recommended Nozzle:
0.5mm
Good ventilation is essential and do not leave print unattended.
Information
Density:
1.07g/cc
Glass Transition Temp:
100°C
Tensile Strength:
15,954.2 psi (110MPa)
Sample Weight:
Approx 35g
Empty Spool + Filament Weight:
Approx 250g + 1KG = Approx 1.25KG
300G Spool Size:
16cm dia, 4.2cm width, 5.2cm dia spool hole
1KG Spool size:
20cm dia, 7cm width, 5.6cm dia spool hole
Please note: settings vary printer to printer so experimenting is essential
Top 3 Best Carbon Fibre Filament Companies
Compare All Filaments
For specific 3D printing help, please complete our
3D Printing Help Form.
We do not hold Food Safety Certificates. Some of the raw materials used to produce our filaments are food safe accordingly to European regulations, but our filament in it's final form is not officially approved. Neither is the 3D printing process and all the components of 3D printers.
Download Datasheet
Reviews
Carbonyte PA12 CF - a good choice for structural parts
Carbonyte PA12 CF is an carbon fiber reinforced polyamid PA12 filament. It prints without any problems (Anycubic I3 mega, 0,6 mm Microswiss A2 hardened nozzle, printbed carbonfiber epoxy plate from Ahltec, Adimide adhesion improver, 260°C nozzle, 80°C bed, 30 mm/s), has a very good flow, perfect bed adhesion, perfect layer adhesion, no warping at all even if printed with 100% infill, and a very clean-looking print surface. The tensile strenght is about 66 N/mm² in XY-direction and about 12 N/mm² in Z-direction (own test) which is in the same magnitude as other PA-CF filaments. Altogether very recommendable for structural parts which carry loads with major stresses mostly in XY-direction. Considering all advantages, its worth the high price.
Not yet!
Still assembling my new Modix BIG 60 V2 dual head 3D printer on which I plan to run your Carbonyte filament. I'll try the Carbonyte first, once the printer is assembled and tuned. John Gotthold
Not fun...
I was really looking forward to using the Carbonyte, especially after all the positive reviews and stuff. Unfortunately, even though it printed well, and looked like every video I saw, nowhere could I find reasons for shrinking in Carbonyte printed parts. I was astounded, and every forum I asked, CF Nylon isn't supposed to shrink, and I saw people posting photos of CF Nylon printer parts and what not. For myself, I would have shrinkage of at least 0.2mm to 0.5mm, which would make tolerances VERY tight for most precision printed parts. Made the entire roll completely useless, and I made the mistake of buying a 1Kg roll. A lot of wasted filament and time. :(
Hi Ibadat,

Thanks for taking the time to leave this review, although I'm sorry your not happy with your Carbonyte.

Shrinkage is normal for Carbonyte just like when printing with any molten plastic. 0.02mm to 0.05mm is in the range we would expect.

I suggest trying to print your part slightly larger to allow for the shrinkage.

I understand if this doesn't suit your needs so please just get in touch and I'll see what I can do for you :)

All the best,
Jess
PA 12+FG vs PA12+ CF
hi PA12 + FG is a great filament - easy to print the objects are rigid and stiff with a level of flexibility the PA12 + FC is stiff not so flexible and breaks easy so between the two filaments i other vote for PA12+ FG great material for end parts
Photos
Rewards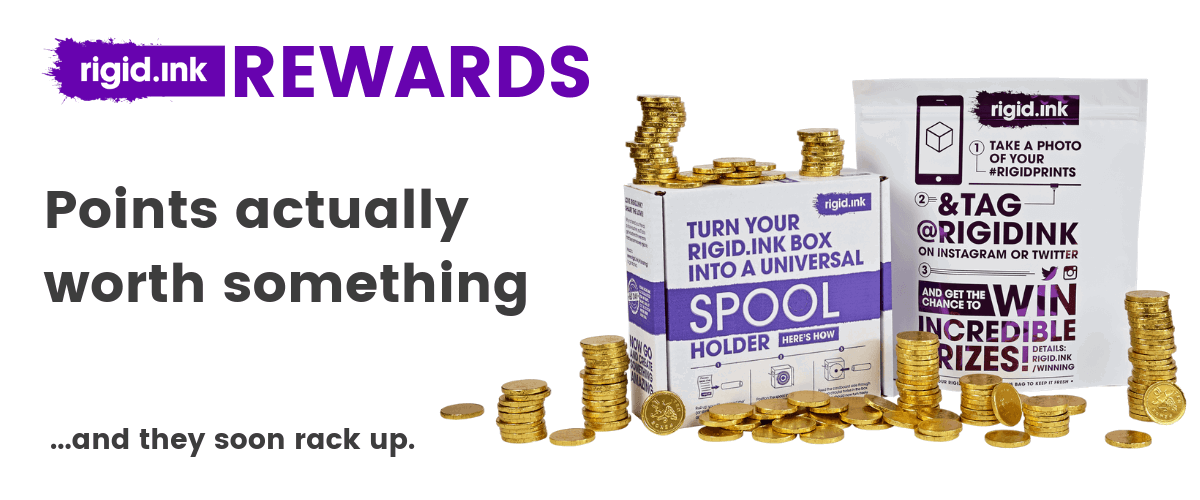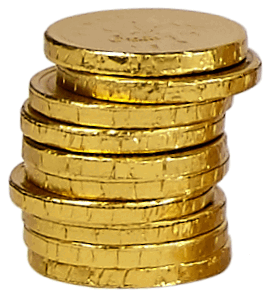 Don't leave money on the table...
Start collecting points worth at least 2.5%* cashback today. You might even have points from past orders you can still claim.

Look at all the ways you can pick up points and get your rewards below.

* - Our VIP customers get a rewarding 5% cashback.
How do I get points?
You can stack up rigid.ink Reward points by doing any of the following stuff - most of which you'd likely do anyway. And with our surprise bonuses, your points will soon add up! Make sure you complete the actions through the 'Earn Rewards' tab inside your rigid.ink account though.

You'll need an account though. Don't have one? Get 250 bonus points if you sign up today!
Get My Account & 250 Points

You get 5 points for every £1 spent. VIPs get 10 points for every £1 spent.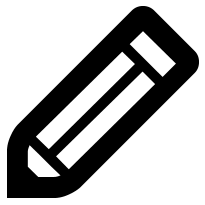 Let others know what you think to rigid.ink They'll get £5 off their first order. And you'll get £5 worth of points.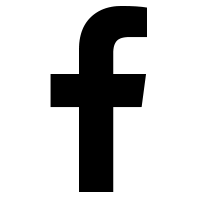 Love rigid.ink & want to get the word out? We'll reward you for your time...
What can I use my points for?
Once you've earned points, you can redeem them for voucher codes so you can get:

Get voucher codes you can spend on rigid.ink filament. Your points are worth solid money off your orders.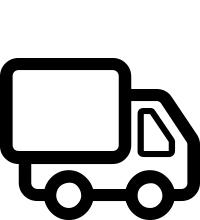 Fancy FREE UK or even EU shipping off your orders? Make big savings on shipping costs.
*How do I become VIP?
Join the VIP club...
Once you've earned a total of 1500 points (not balance - you can still spend them all) in a 12 month period, you'll be automatically upgraded to our extra special VIP club tier. Here, you'll enjoy perks - most notable you'll receive an additional 2.5% on your points.

This means you'll receive a total of 5% cashback on your rigid.ink purchases, as an extra thank you to our most loyal customers.
How do I redeem my points?
To view your balance, redeem points and see what you're eligable for, just login to your account and click on 'Loyalty Points'. Select the 'Rewards' tab to choose and claim your rewards to get money off or FREE shipping on your next order!
Get My Account & 250 Points